I often get asked questions about travelling gluten free as well as questions relating to my suitcase! As we enter into summer and autumn travel season, I thought it might be helpful to share what I pack in my gluten-free suitcase and travel bag. When I was first diagnosed with coeliac disease I brought way too many gluten free food items and it all had to be lugged back home! Nowadays, I am definitely more sensible, and pack what I believe I will munch through during my holidays. I make sure that I have all the essentials without taking up loads of room in the suitcase.
My travel bag is the one that stays with me at all times. The one that can easily fit some clothes, some snacks and most importantly, all the essential items for a holiday. If anyone would like to know which plane seats I prefer, I always choose a window seat nearer the wing so I can take in the view of the fluffy clouds! I know some people have to pick an aisle seat to be able to get out quickly, which is totally understandable, so pick a seat that is best for you!
Having coeliac disease means being extra careful when travelling so being organised is key! Always bring food, drink lots of water during your travels and don't forget any medication! Some airports are great for gluten free, whilst others have practically nothing, so do be aware of this. I usually spend two weeks away with my family, and I am always on short haul flights. However, the packing essentials and advice in this post should be applicable to those long haul fliers, and also long haul fliers will probably be pros by now I am sure! 😉
So what to pack and what are the key items? Here is the low down on all the essential things that I bring with me in my suitcase and hand luggage.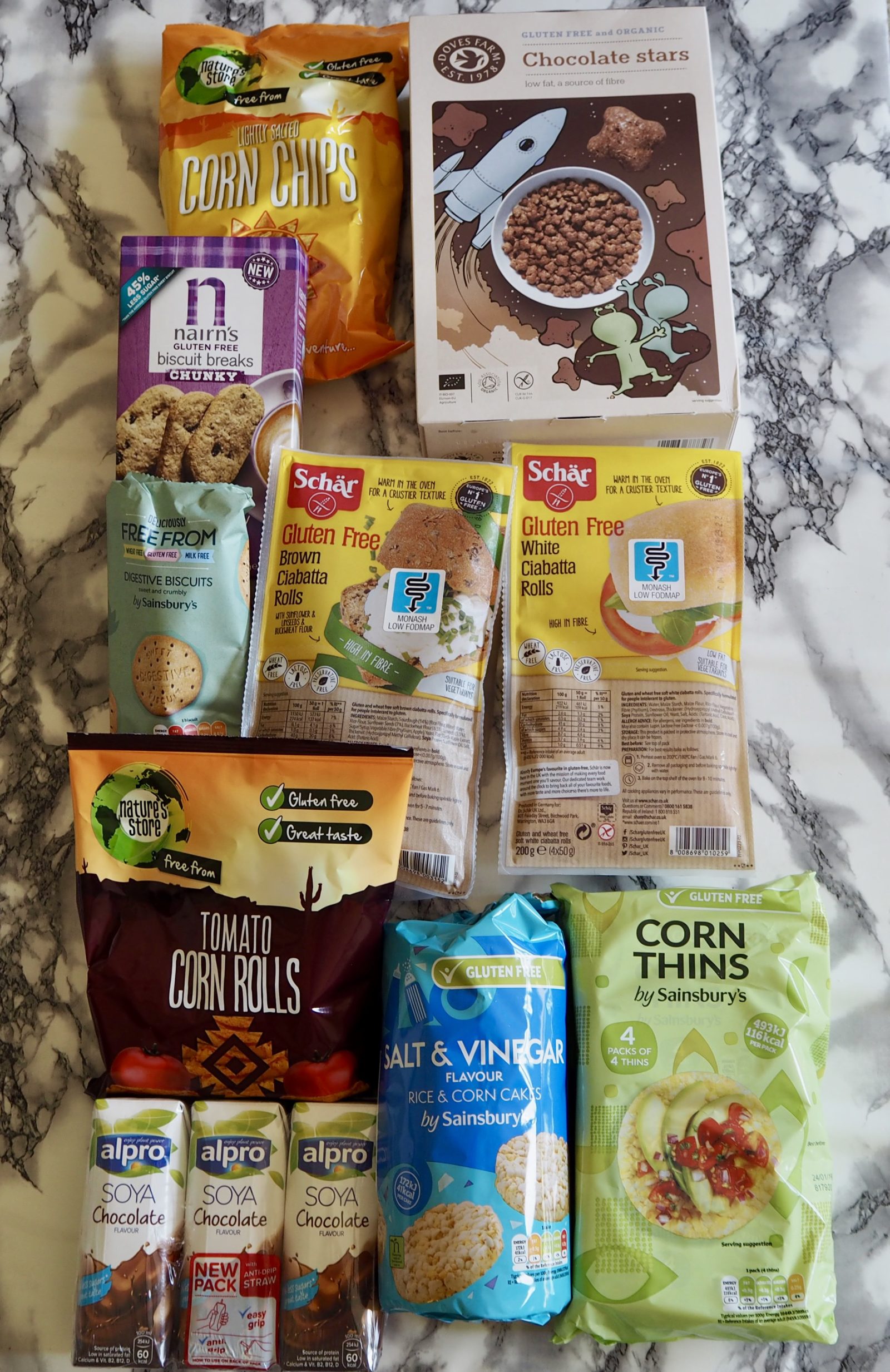 SUITCASE ITEMS:
Sealed gluten free bread-I always bring bread with me. Just make sure it is properly sealed bread, otherwise it will not last the journey!
Gluten free snacks- Crisps, biscuits, dried fruit, nairns crackers and biscuits, fruit bars, energy bars, chocolate milk
Teabags-I never go anywhere without my British teabags!
Gluten free cereal-I bring cereal if I am staying in a villa, or in self catering apartments.
Sealable bags-Handy for leftover bits and bobs.
Small handwash-You can of course find these items in supermarkets on your travels. But if you are not near a supermarket, then packing a travel wash is incredibly handy for washing small items like pants or bikinis.
To keep my suitcase tidy and organised, I use ebags. You can purchase them in all different colours and sizes. I do not know how I coped without them before! They are great for families, as it saves so much time figuring out who's stuff is where, especially if you share suitcases.
HAND LUGGAGE:
Sickness tablets-A must for me. I always feel better once I have taken a sickness tablet. Maybe it is all in the mind, but still, it helps me to feel less anxious for my travels.
Paracetamol/other medication- Keep your medication with you and don't forget diarrhoea tablets just in case you get the runs!
2 Bikinis, couple of pants, sunglasses, and clothing-ALWAYS pack some spare clothing in your hand luggage, as heaven forbid if you lose your suitcase at least you have some clothes to get you by!
Jewellery/other personal items-I never pack these items in my suitcase, I always have them with me.
Passport/Important Docs/Travel Insurance-I have a travel wallet with separate sections which is very handy to keep everything organised!
Bite and sting cream-Keep those horrible mosquitos at bay with some bite and sting roll on or spray and bring some sting cream if you get stung.
First Aid Items-It's always handy to have plasters, preferably waterproof. I also have a handy emergency blanket and poncho which could definitely come in handy for yourself or for someone else in an emergency.
Gluten Free Snacks-I always bring gluten free snacks with me on the plane, and if I am not given food on the plane, then I will try and eat before my flight, or purchase some gluten free food after I have passed through all the check points. I usually have snacks such as crisps (just be careful of them popping on the plane!), dried fruit, or snack bars to give me energy.
Clear make up bag for small makeup items-I bring a few makeup items with me. Each liquid you carry must be in its own container of no more than 100ml, but check the airlines guidelines for further information.
Wet wipes-Very handy for when you can't get to a toilet and you need to clean your hands.
Book-I love to read so usually bring a book or my kindle with me to enjoy on the journey.
Small toiletries-toothbrush and toothpaste for that minty fresh feeling!
Chargers-phone/ipod/tablet-You can then search for places of interest on the plane and check out sites like Findmeglutenfree.
Pen and small notepad
Business cards-You never know who you might meet at the airport or the plane, so I always take my blogging cards!
Purse-Obviously need some dough if I am going on holiday!
Empty water bottle-I have a reusable water bottle which you can then fill up if you ask for water on the plane. Genius!
Travel Pillow-I don't go anywhere without my travel pillow these days! I could never sleep on the plane before, but with my travel pillow I am off to the land of nod in no time!
Travel Allergy cards-Incredibly handy for travelling abroad as the cards list all of the phrases and words you need so you don't get caught out and lost in translation! You can also find lots of apps on your phone too. But still take extra care. Just because it says gluten free, it may not mean it is, so be very cautious. If in doubt, stick to plain food, or if it looks dodgy, don't eat it.
What are your essential suitcase and travel bag items?
Happy and safe travels!
♥
Don't forget to check out my PINTEREST BOARD!