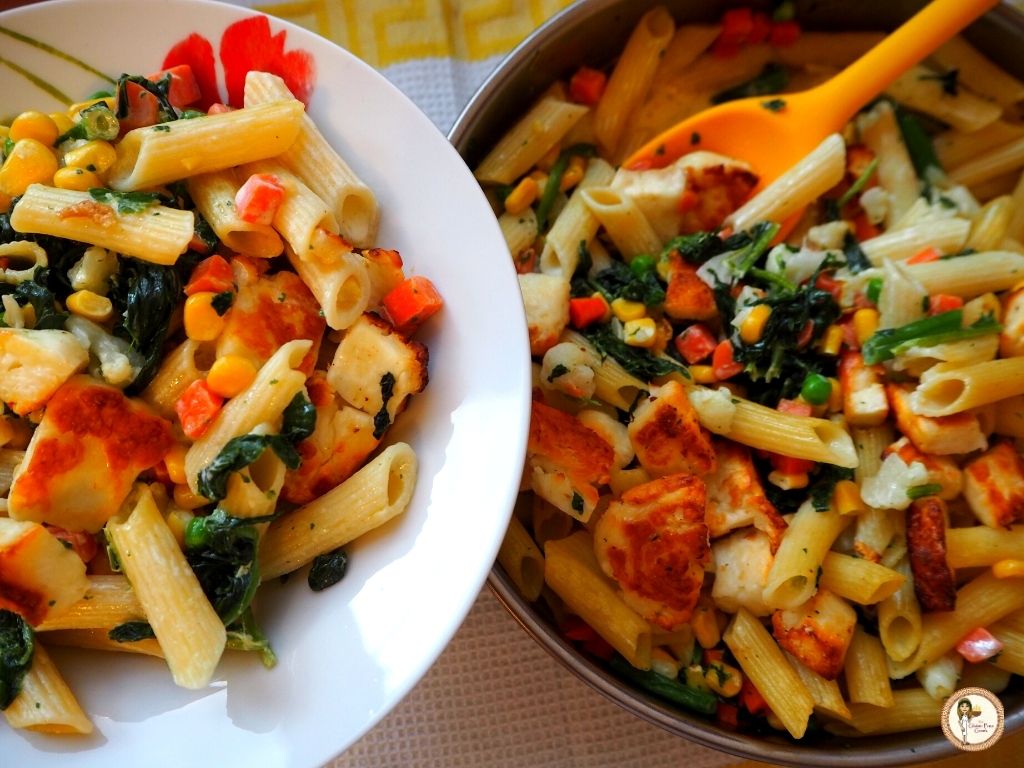 It's time for some comforting veggie pasta featuring Dodoni halloumi! The number one in Greece, Dodoni is extremely tasty and the company has a vast range of products. Check out my baked feta recipe from my previous post.
This halloumi veggie pasta is the perfect autumn treat or just make it any time you think of Greece! Not everyone gets on with halloumi, and I guess it is an acquired taste with the chewiness and squeakiness when you munch on it, but I would advise buying good quality halloumi before you decide if you love it or hate it!
Halloumi is perfect for a variety of dishes, it can be grilled for salads, pastas, lasagnes or even burgers, like my sausage and halloumi burger recipe. It's also tasty for a vegetarian mixed grill as it's cheese, but it does keep its shape when it's melted too! It is traditionally grilled or fried, but you can also roast it in the oven too!
Now for the pasta and veg ingredients. Basically I chuck in whatever I have in my kitchen at the time. I keep a fair amount of frozen veg, which is actually very handy. I like spinach, diced carrot, peppers and other vegetable mixes, so there's a lot of variety. You could also use roast vegetables, like sweet potato or parsnips, and don't forget to drizzle a bit of olive oil! It creates a wonderful flavour, and you can easily make it for as many people as you need.
You could of course make this a meaty pasta dish too, like adding sausages or bacon and ham. The possibilities are endless!
So what about cutting the halloumi? Cutting the halloumi into cube shapes is ideal before pan frying, but you could also cut the halloumi into 1 cm thick slices. Also, you don't need to add oil when pan frying as halloumi has quite a high fat content. If you do add oil, it will take much longer to go golden in colour and it will also be soggy!
So here's the recipe!
Veggie Pasta Bake with Halloumi
simple and warming pasta dish with halloumi
Ingredients
240g

gluten free penne pasta

300ml

single cream

300g

mixed vegetables

225g

halloumi

spinach

mine was frozen
Instructions
Boil water in the pan and add the pasta until cooked.

Soften the veg. If using frozen vegetables, soften them in boiling water for around 5 mins.

Drain the pasta and the vegetables.

Slice the halloumi into cubes of around 1 cm.

Lightly fry the halloumi. You don't need oil. Doesn't have to be fried to perfection as it will get brown in the oven.

Pre-heat the oven to around 180°C/Gas Mark 4

Place the pasta and the vegetables in an ovenproof dish. Pour over the cream.

Place the halloumi on top of the pasta. Drizzle olive oil, salt and oregano.

Bake in oven for around 20 to 25 mins until the halloumi and pasta are golden. Remember to keep and eye on the halloumi as it will go golden quite quickly, and turn it over so it's cooked on both sides.
Recipe Notes
If you don't want to use single cream, you could use a pasta sauce, pesto or even a tomato sauce!
Don't forget to check out my pinterest and social media!