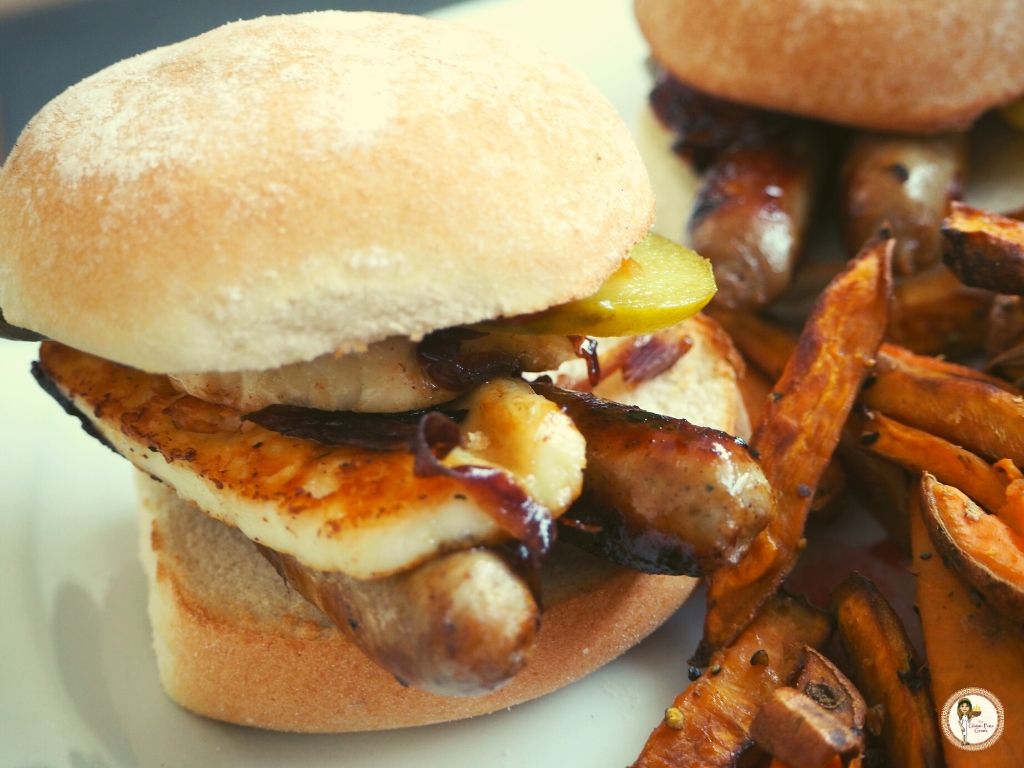 Now is the perfect time for sausage and haloumi burgers with sweet potato fries! I hope you all had a good Easter weekend, despite everything that is going on in the world right now. We have had some incredibly good weather, so if you can get outside in your garden and use your BBQ well even better! This is a good choice for lunch or dinner and you could dress up the burger with whatever you choose. I added sliced gherkins and of course haloumi which tasted delicious! Grab some gluten free buns, and you are on your way!
Summer is just around the corner (I hope) so you may want to check out some other foodie posts such as my homemade lollies or sweet olive quiche.
Here's how I made my sausage and haloumi burgers:
You will need:
gluten free buns
gluten free sausages
250 g haloumi cheese sliced
1 onion diced
gherkins sliced
sweet potato fries (I bought already sliced ones in Lidl!)
What to do:
Place sweet potatoes in an ovenproof dish and drizzle a little olive oil and seasoning and place in oven at 180°C fan for around 30 mins. I put mine under the grill setting at around 170°C but keep watching them so they don't burn.
2. Simply fry the sausages and the onions in a frying pan with a drizzle sunflower or vegetable oil.
3. Remove from the frying pan and then fry the haloumi slices, turning them over every now and again until golden on both sides.
4. Once everything is cooked, place the sausages and haloumi with onions into the burgers and add the fries on the side!
Job done! Enjoy!
♥