The ultimate comfort food is a lasagne. Accompany it with a delicious blend of fruitiness from Barn Farm Drinks and you have the perfect combination!
Who are Barn Farm Drinks? Barn Farm Drinks are a family run business based outside Manningtree. Founded in 2017, there was a noticeable gap in the market for quality farm pressed fruit juices.
In recent years, the juice market has suffered a decline in sales and in 2014, it was revealed that fruit juice often contains as much sugar as a fizzy drink. Therefore swapping for a real piece of fruit would be a much greater benefit to our health. Most of us had very little clue which juices were really low in sugar or which were actually healthy.
So why Barn Farm Drinks? They encourage consumers to enjoy on the go healthy drinks, and also highlight the benefits of farm pressed fruit juices. This is a quality way to take delight in the fruits of nature in either a 330ml glass or if you really want more-a 750ml glass. Every bottle is 100% fruit juice and is one of your five a day. There is also no added sugar. The berry blends are all pressed, pasteurised and bottled at Barn Farm, so you know as a consumer where it is coming from. Barn Farm is a highly ethical business and the sustainable farming methods include using an anaerobic digester to generate electricity from the fruit press waste!
Barn Farm offer a variety of flavours:
Raspberry and apple, Strawberry and apple, Blackberry and apple, Raspberry, blackcurrant and apple, Special edition clear raspberry and apple, orange. I really enjoyed the taste of the raspberry and apple.
To find out more about Barn Farm Drinks and where to purchase simply visit the barn farm website or check out their social media!
This tasty pork lasagne recipe is a treat especially for those days when you feel a little ick! I usually use pork or beef but sometimes I use turkey mince to change things up a little.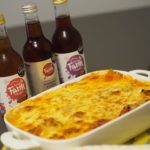 Delicious pork lasagne
Gluten Free/Wheat Free lasagne
Ingredients
500

g

beef or pork mince

500

g

carton of Pasata or tinned tomatoes

1

Gluten Free beef or lamb stock cube

4

chopped spring onions or small red onion

3

chopped carrots

1

courgette sliced

150

g

strong mature cheddar

250

ml

milk or cream

50

g

butter

50

g

plain gluten free flour

salt and freshly ground pepper

12

lasagne sheets
Instructions
Bring water to the boil and boil the carrots until soft

Add some oil to a frying pan and fry the mince for 2-3 mins until browned all over

Transfer the mince, spring onions and carrots to a larger pan on low heat and add the tinned tomatoes and 1 and a 1/2 pints of beef stock. Simmer gently for around 5 mins and mix well.

Add a pinch of salt and pepper

Soften the lasagne sheets in boiling water

Place the first layer of lasagne sheets at the bottom of your ovenproof dish

Add a layer of mince meat sauce

Repeat this process until your last layer is mince meat sauce

In a small pan, add the flour, milk and butter and stir on a low heat. Mixture should be a creamy sauce.

Spread the sauce over the lasagne and grate the cheese over the top

Bake for around 35 to 40 mins at 180°C until golden brown.

Enjoy with a crispy salad!
Psst! If you enjoyed reading about this fruity company, then you may enjoy reading my Pago Fruit Juice blogpost.
Don't forget to PIN this! Check out The Gluten Free Greek Pinterest Board
*Disclaimer: Blogpost contains gifted products. All words and images are my own.