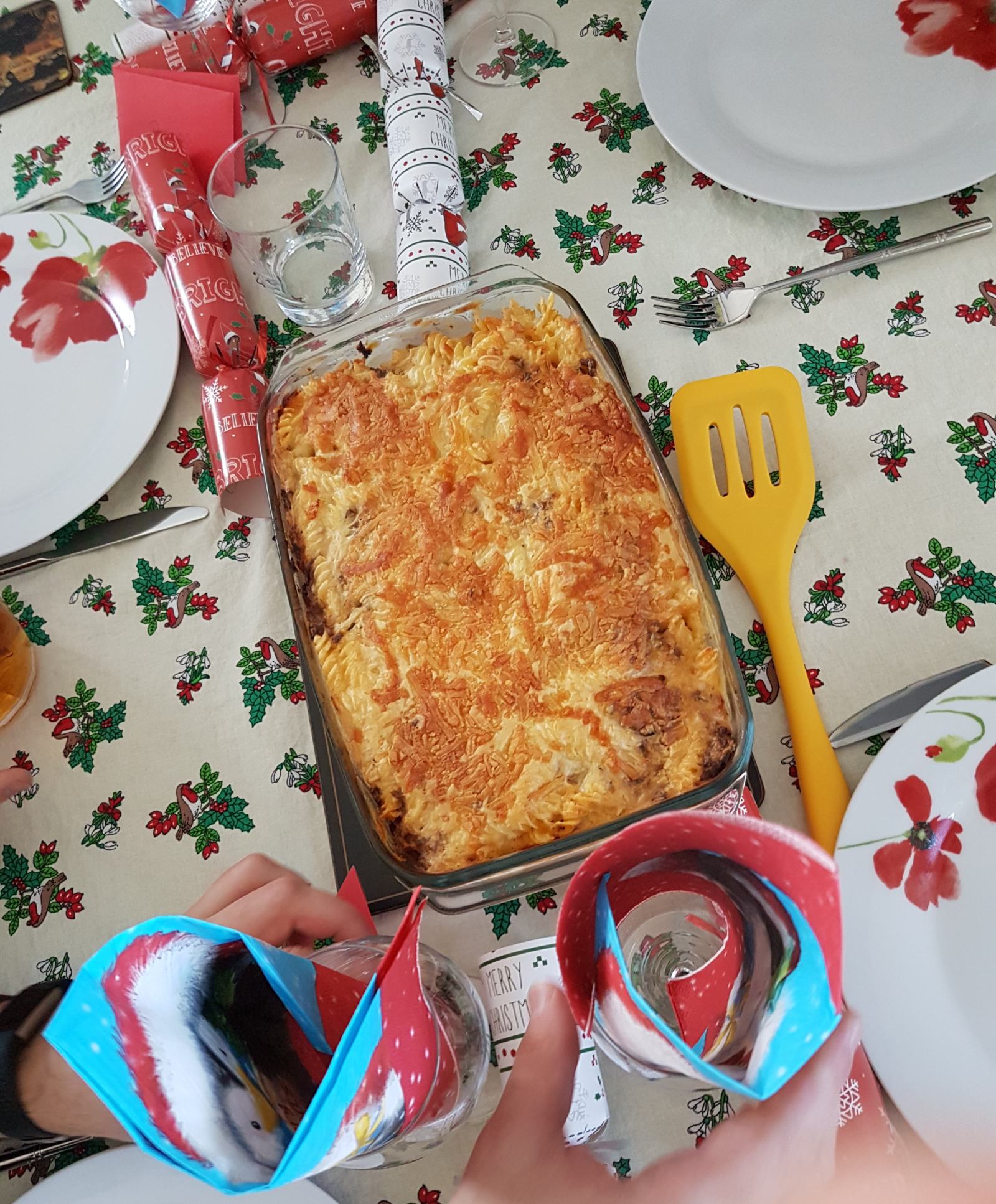 I couldn't have a gluten free greek blog without sharing my simple and tasty pastitsio recipe. Pastitsio is an Italian word, but the Greeks and Mediterranean's all have their own variations.
This is a dish that my mum has made time and time again for family and friends who may not want to stuff their faces with souvlaki but still want a 'little' meat. The typical Greek ingredients for Pastitsio are pasta, cheese, egg, beef, veal or lamb with tomato and cinnamon, nutmeg or all spice and a top layer of sauce. I make a béchamel sauce with cheddar cheese but you could add parmesan. We don't use egg in ours, but you could add it in with the pasta. As I have been brought up in the UK, I have a slightly more British version, so for those who may be wondering why it is a little different then that is why. But that's the fun part about cooking. You don't have to make it exactly traditional, you don't have to follow rules, and you can do whatever you like! I sometimes even add peas (sacrilege!). So let's get cooking, the way my mum makes it!
Gluten Free Pastitsio
Gluten Free Pastistio the way my mama makes it! Greek/British Version!
Ingredients
750

g

lean mince beef

or lamb if you prefer

2

large white onions

500

g

gluten free pasta

Gluten Free beef or lamb stock cube

500

g

carton of Pasata or tinned tomatoes

For béchamel sauce:

150

g

strong mature cheddar

500

ml

milk or cream or both

50

g

butter

3

heaped tablespoons gluten free plain flour
Instructions
Add mincemeat to half a pint of water. Cook until water has absorbed, but be careful not to burn.

Add half a pint of boiled water with a stock cube in it.

Add the tin of tomatoes, salt and pepper, oregano and a glass of red wine (optional)

Cook on a low heat so the meat absorbs the flavours. Top up with more water if needed.

Cook and drain the pasta and set aside.

Place the butter, milk and flour on a low heat and keep stirring until it forms a smooth paste. Can use a hand whisk if required. You can add cheese to the sauce or keep for the top of the pastitsio.

In an ovenproof dish, place a layer of pasta, then meat, and continue until all ingredients have been used. Top with the béchamel sauce. You can make more béchamel sauce and top each layer if you wanted.

Cook for around 30-45 mins at 180°C until golden brown.

Enjoy with a GREEK salad!
Kali Orexi!
If you liked my greek/brit version of pastitsio then check out my moussaka!
Don't forget to PIN on PINTEREST! Check out my pinterest board here