This month, I have had some requests for some vegetarian Greek recipes. So I thought I would grab some aubergines and do some baking and stuffing with my own twist of course!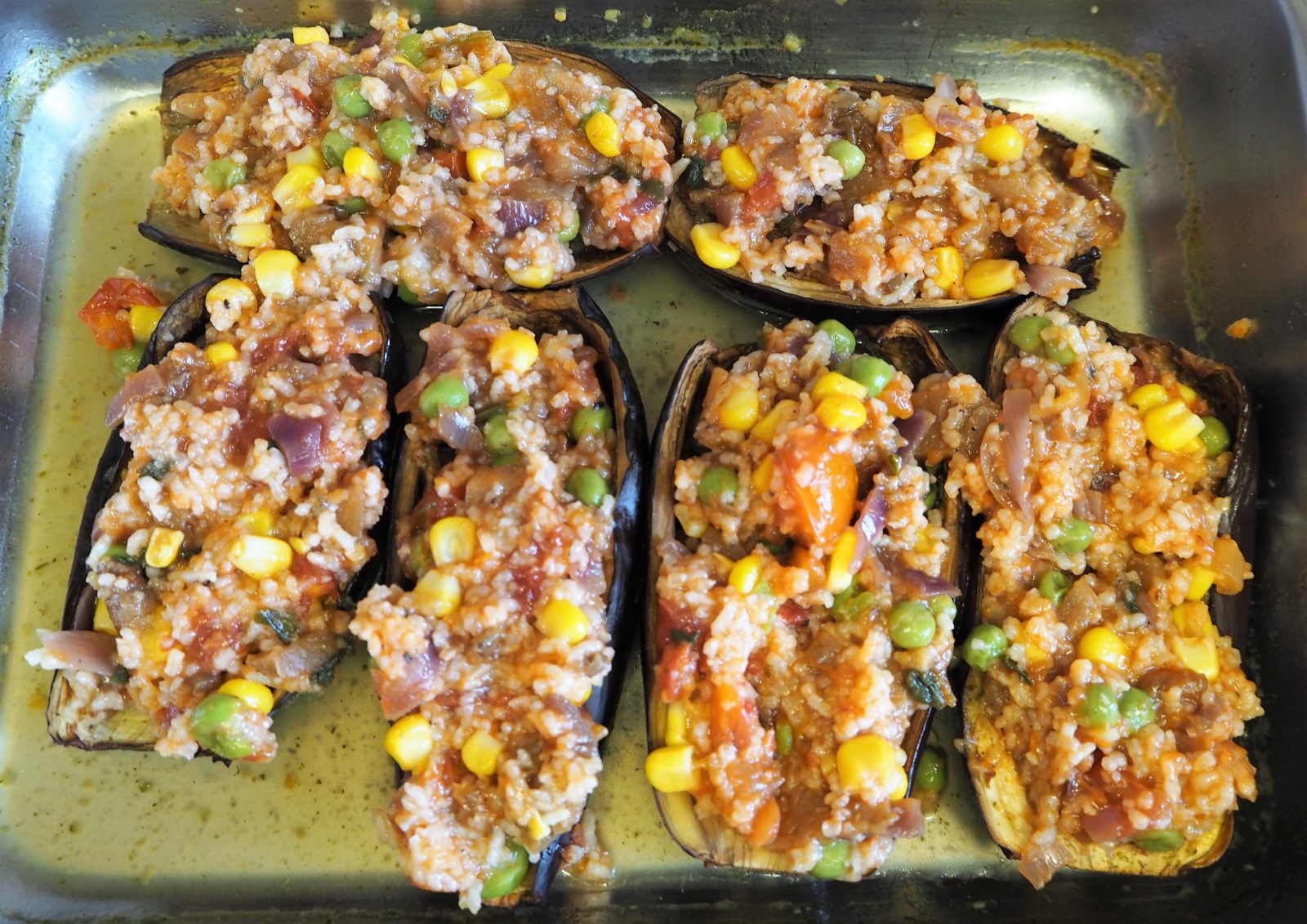 Baked and stuffed aubergine recipe
Prep Time: 25 mins Cook Time: 1 hour 15 mins
Gluten Free, Wheat Free, Vegetarian
You will need:
3 or 4 aubergines
1 cup of White basmati rice (or other rice if you prefer)
Cheese (you can use feta, halloumi, whatever you like but I just used normal cheddar for this recipe)
1 cup of garden peas (optional)
1 cup of sweetcorn (optional)
2 medium to large onions sliced into small chunks
1 garlic clove
1 tin/400g chopped tomatoes in juice
1 teaspoon dried oregano
4 teaspoon chopped flat leaf parsley
1 gluten free vegetable stock cube
What to do:
1) Wash and cut the aubergines in half lengthways. Scoop out the flesh (I used an ice cream scoop to do this) and put the flesh in a bowl.
2) Roughly chop the flesh of the aubergine into small chunks.
3) Heat some olive oil or sunflower oil in a large deep pan. Add the onions, the garlic and the flesh of the aubergine and cook on a low heat until soft. Once soft, add in the tinned tomatoes and stir on a low heat.
4) In a separate pan, bring water to the boil, and add in the rice, the peas and the sweetcorn. Once the rice is cooked, drain any excess water.
5) While you wait for the rice to cook, place the aubergine shells into a fairly deep oven tray. Add vegetable stock to a pint of boiling water and stir until vegetable stock has dissolved. Pour the vegetable stock around the aubergine shells. (Don't worry if it goes in the shell a little. This will help make the aubergine soft.)
6) Place the aubergine shells in the oven at 180°C and cook for 40 to 45 minutes.
7) Add the cooked rice to the large pan of the aubergine stuffing tomato mixture and mix in well, sprinkling some oregano and chopped parsley.
8) Check that the aubergine shells in the oven are tender. If not leave for a little longer. Drain any of the excess stock then add the stuffing into each shell. If you have any leftover rice, maybe leave it for another day.
9) Sprinkle the cheese on the top of each aubergine shell and pop back in the oven for a further 20 minutes until the cheese has melted.
Enjoy! καλή όρεξη!
♥
Have you pinned this recipe? Check out my pinterest!